Purchase
> select price
All of our arrangements are custom. No two arrangements are exact. Orders from photos on the website are matched as close as possible. We will gladly make your custom arrangement to your specifications.

Be sure to ask about cut off times for design and delivery. Some unique flower varieties may require 3 to 7 days lead time to ensure that they are available on the day that you need them.

Feel free to call and discuss any special needs with our staff.
Let us create a custom design just for you!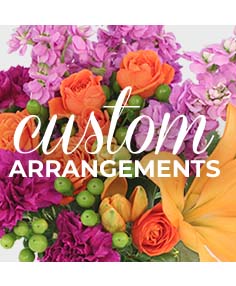 CUSTOM ARRANGEMENT
of Fresh Flowers
If you prefer, please Call me and we can discuss what you want and place your order. 678-493-6991